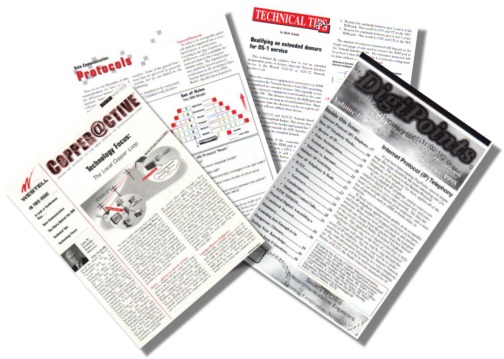 TECHNICAL NEWSLETTER SERVICES
One of the best ways to keep your product information in front of your customer is to make it part of an indispensable technical reference. KnowledgeLink technical newsletter services can be your way to give your product promotion a permanent place on your customer's reference shelf -- apart from your competition.
The idea behind the KnowledgeLink newsletter service is that when your product information is an integral part of your customer's primary technical references, you become first choice for implementation. Our newsletter service does this in a way that makes your newsletter be perceived as a reference service, rather than product promotion.
Technical subject matter drawn from our extensive library of reports and new research appears in the headline of the newsletter. One or more new technical subjects are presented in each issue, and issues become part of an on-going series.
Your product information is linked to the topics in each issue, by references and parallel product articles in the same issue. The linkages are through user applications, rather than blatant product promotion.
Customers save the newsletters we produce in binders, because the content helps them do their jobs. Your product can also be a part of those constantly open binders when we produce a newsletter for your firm. Issues are produced on a regular schedule, and customers look forward to receiving them. (We've even had cases where customers have called to be sure they were on the distribution list!)
We can develop a periodic newsletter for your company, similar to the service we have provided to Westell and the Society of Cable Telecommunications Engineers. These companies have valued our service enough to make it part of their web content. For an example, see DigiPoints at the SCTE web site.
To get in touch with the KnowledgeLink representative who can start a newsletter for your company, or change the one you currently do into a customer tool, use the email link below, or call us at 630-820-8205.

for more information